2013 Was a FANTASTIC Year!
We'd like to thank all of our 2013 visitors....especially the ones that made it to ALL FIVE EVENTS!!!
2013 is our 13th year in operation and boy did we attack it with a BANG. Not only were we able to accomplish three nights of our home haunt, but we are now OFFICIALLY Professional Haunters and have completed not just one but TWO professional events this year.
We began our haunted journey by performing at the Ghoulish Gala 13 in Turlock at the Stanislaus Fairgrounds. It was a successful event in which we had a lot of fun. Shrieks and screams filled the building as many of our visitors filtered through the Wicked Doll House, The Zombie Hospital, Scarecrow Row complete with a corn area, The Clown Carnival and The mad scientists' human to reptile transformatorium. We cannot also forget the two mazes inside which hid some scary roaming actors.
Opening Night brought "The Darkness" back to Deathworkz and our visitors had to brave the darkness with only a glowstick to light their way through. The monsters inside were INTENT on stealing away their glowsticks and many of them achieved just that!! Congrats to those of you who made it through with your glowstick!
Chris Ricci Presents The Summoning was a true highlight for us this year. We performed a modified scare there - not our favorite Thrill Seeker Scare but UPPED the ante on the costuming which were all original Deathworkz characters. We received a lot of great reviews for our performance and are already gearing up for The Summoning 2014! Many of you requested the more intense scare...and we plan on delivering! We're still getting a lot of pictures shared with us from that event, so if you have some pics, please send em on over to Deathworkz@gmail.com!
Sunday brought Deathworkz' favorite Thrill Seeker Scare night. Since we really gave it to you last year, we toned it down a bit this year, but still had a bloody/gory good time! SO many of you request this night and we are SO happy to provide it to you and you can BET it will be back for 2014!!
Halloween Nights performance was a bittersweet one as we said goodbye to two castmates that have been with Deathworkz for numerous years. Our line was ridiculously long but we got EVERYONE who made sure to show up early to get in line through the haunt. We had some of the best screams, the most awesome sound of laughter and absolutely NO incidents this year! Special shout out to our increased Security Staff.
Thank you ... to so many of you for your return to our haunt, for sharing your screams and laughter with us and for being a huge source of support to our haunt family.
Sincerely,
Lynette and The Deathworkz Crate of Crazies
Saturday, Oct 26th at The Summoning by Chris Ricci Presents!!!
CENTRAL VALLEY PEEPS!!! DONT MISS OUT!! "The Summoning" brought to you by Chris Ricci Presents.. promoter of Xfest, Fat Tuesday and Luckyfest here in Modesto. THE SUMMONING is a Halloween themed event with amazing things planned and includes free entrance to none other than Modesto's BEST and longest running Haunted Attraction - DEATHWORKZ!!!

We have presale tickets available for $10! Get them early because the price doubles at the door!!
call 209 605 3975 or email Deathworkz@gmail.com

"The summoning is the Halloween party to be at in Modesto. It features 15 Haunted rooms including free entrance to the much heralded Deathworkz Haunted House set up in the 11th street garage, Area 52(09) where you don your tin foil hats and party with the women in black. Be careful though, there are many aliens in this area and you might find yourself probed. You can get your grub on at the Texas Chainsaw BBQ. Yes you can get a burger here, but trust me, it's a restaurant experience you will consider yourself lucky to survive! Other areas include the Church of Catfish, the Zombie Prom, The Hellraiser stage featuring some of the area's best metal bands, including Zombie Death Stench (Official) !!, Elvira's Macabre Theater featuring the gender illusionists from the Tiki, The 27 Club featuring rockstars raised from the dead, Chuckie's playhouse of Halloween games, The Pet Semetary dance club, Dia De Los Muertos, and the from Dusk to Dawn retro DJ experience."

DONT MISS OUT!!!
New Makeup FX Tutorial - A Torn Cheek Zombie
Check out Deathworkz brand new makeup fx tutorial posted over on our
Deathworkz YouTube Channel called "Deathworkz Torn Cheek Appliance". Our goal
is to provide you with different tutorials from different skill levels as well as
using products from the cheap and easy to obtain to the more professional,
more costly materials.
Saturday - October 19th, 2013 - Welcome To The Crate!
Ghoulish Gala 13

​Saturday ​Oct. 19th, 2013 - Stanislaus County Fairgrounds
8pm-2am
​$15 w/ Costume // $20 General Admission
*Cash only
​
- Professional Haunted House By: Deathworkz

​- 2 Stages
Indoor - Monster Stage
​Outdoor - Zombie Zone

​- Premium Hookah
Xhale

​​- Food Vendors
​​Viva Taco Bus
​Sweet Cheeks Fair Treats
Dale's Kettle Corn & Lemonade​​​

** SPECIAL GUEST DJ​​ **
Get your tickets early!!
http://impulseevents.webstarts.com
Deathworkz Visits Scare LA 2013 - Day 2
We had an absolute blast when we visited a brand new Haunters Convention
in Los Angeles on August 11th. There were some SUPER informational classes,
Fun and very talented Scare Actors and the vendors were chock full of quality
stuff!! This was Scare LA's debut year and Deathworkz is very much looking
forward to returning next year for more haunt-goodness! We've posted more
pictures on our Deathworkz Facebook Fanpage and here in our Gallery, be sure
to check it out. And speaking of awesome vendors... check out our CalHaunts
friends Stacy and Robert over at NecroticCreations.com
(Stacy pictured below with Allyssa and I).
Welcome to Deathworkz...
We're Dying To Meet You!
Thanks for visiting us! There's lots of information, videos and more here at our home on the web. If you're one of the brave & plan on attending, please read our Rules of Entry and FAQ pages. Bookmark us so that you may comeback often to see what's new!
Dates & Hours of Operation are listed on our Rules of Entry page
Thanks again for visiting & remember..
Scaring is Caring !
DEATHWORKZ
St Charles Place
Modesto CA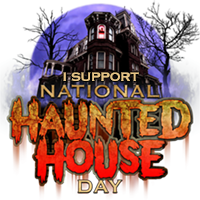 Thank you for helping us keep Deathworkz Home Haunt up and running. Your Donations are GREATLY appreciated. Once your donation is complete, this will redirect you to our home page. Again, thank you for your generosity!